The punk-rock sounds of The Clash's London Calling andTrainmixed with Giuseppe Verdi's classical pieces Trovatoreand Nabuccoin the music to Veronica Etro's showcase of her ready-to-wear fall/winter collection for 2019-20.
The creative director set up her Milan fashion show in a quite unusual location: the cloisters of the 19thcentury conservatory 'Giuseppe Verdi', a cradle of cultural heritage and values cherished and shared by the fashion house that celebrated its 50th anniversary last year  ̶  half a century spent creating, experimenting and reinterpreting those key elements that contributed to shape the label's strong identity on the international fashion stage.
Etro's new fall collection draws inspiration from a rich archive of fabrics, sketches and visions. The show opened to explosive outfits featuring mini-dresses, blazers and outerwear designed in the iconic paisley, a drop-shaped floral pattern that evokes far-away worlds matched with jacquard elegant knitwear reminiscing of tapestry and upholstery prints.
Heritage easily finds a preppy-pop allure in looks where checks, stripes and blazons meet fishnet tights and glam-rock ankle boots, brit references celebrating Etro's youth in 1990s London where she was awed by top models Stella Tennant and Honor Fraser's styles.
Turning to indie touches with a Victorian twist, the collection ultimately features black-velvet bustier dresses, gold and pearl embroidery, and frog fastenings. Rather than conforming to seasonal trends, this elegant urban fashion is influenced by the designer's own personality, and mirrors the brand's DNA.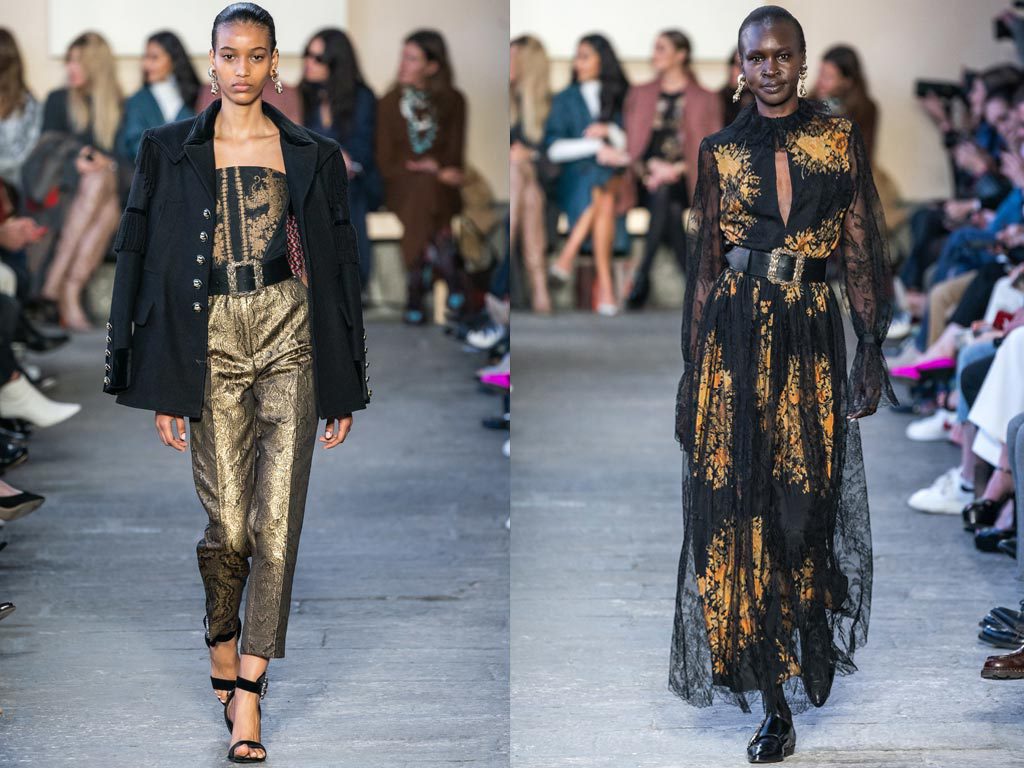 Accessorized with figure-flattering belts and refined buckles, the outfits are also finished by the Pegaso bag, a contemporary remake of the model launched by Etro in the '80s bearing the emblematic mythological winged horse, the brand's symbol since 1968.
Fashion icons and models of all ages walked down the runway, like Edie Campbell, Alek Wek, Farida Khelfa, Jacquetta Wheeler, Lisa Winkler, Tasha Tilberg, Tatiana Patitz and Gemma Ward, in line with the celebration and modern reinterpretation of heritage inspiring this successful FW 19/20 collection