In 1997, minimalism was the top fashion trend: avant-gardist designer Silvia Venturini Fendi interpreted this essential trend with her own twist. A small bag, characterized by a simple shape, but available in endless versions: with sequins, embroidery, different types of leather and precious details.
That is how the Fendi Baguette was born and, with it, the concept of limited edition: a defining moment for a generation of bag-lovers and collectors of any age, between the end of 90s and the beginning of the 2000s.
The Baguette was of the first It Bags in the story of fashion, ça va sans dire, owning its popularity in part to the TV series Sex and the City, where Sarah Jessica Parker, aka Carrie, showed it off in a purple sequins or brown leather version.
The Spring Summer 2019 collection features the iconic bag in three new sizes (mini, medium and large) and many different prints; to celebrate its return, the maison presented three short movies set in Shanghai, Hong Kong and New York featuring influencers that share a passion for fashion.
Small but roomy, as always, the Baguette keeps its original allure in this updated design; the FF logo on the clasp, a must-have of the Rome-based fashion house, is printed all over in a 3d pattern on soft lambskin, available in six colours: purple, pink, light blue, yellow, white and black. The hardware has a gold finish and includes a detachable shoulder strap (chain or leather).
There are different prints available: a blue denim version with orange and neon red piping, one with an orange and yellow floral embroidered motif, and a jacquard monogram version in a Parakeet pattern.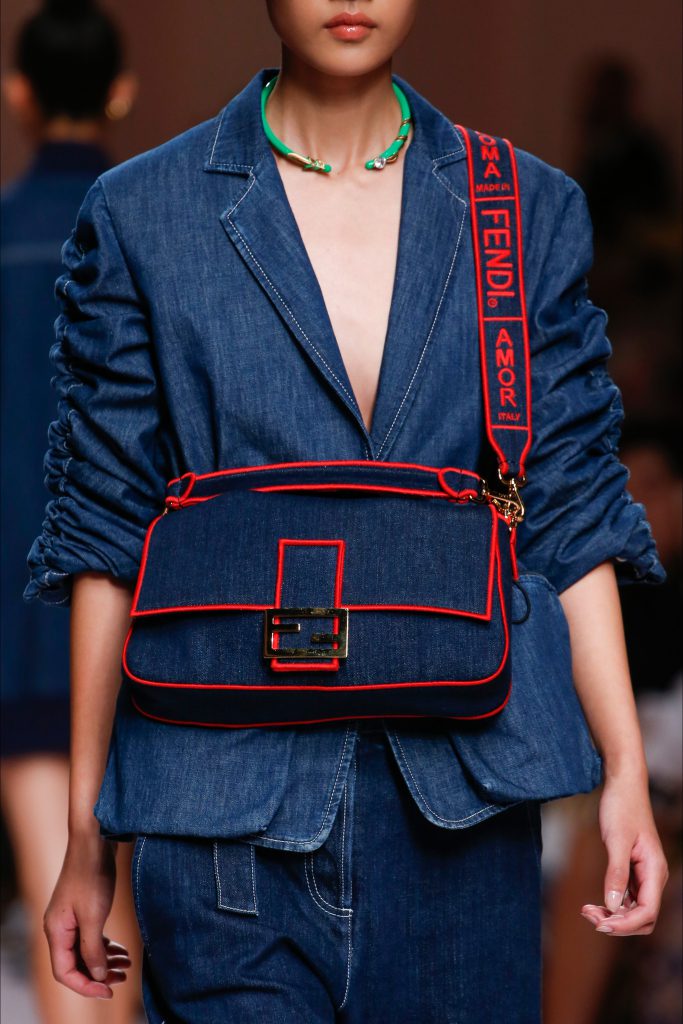 The most luxe versions are the Baguette with Swarovski crystals and the double F clasp with floral jewel decorations.